Volunteer Opportunities
We are working with ICDI to help provide clothing for some of the immigrants who have arrived in Chicago. Here they sort and make packs of clothes to be delivered to various families currently being sheltered. If you wish to volunteer, please click the link below and fill out the volunteer form available on their website.
If you wish to donate clothes, please contact ICDI representatives so you can coordinate with their staff members be here to receive the clothes. Please do not order and send clothing to the church using the ICDI name or names of their staff. Thank you for your cooperation and patience!
If you're interested in learning more about ICDI, please click here to visit their website.
---
Christian Education Committee
Interested in helping us help our youth and children? Contact the church office to see how you can participate in our Christian Education Committee. We are always ready for new ideas, new faces, and new plans to help our youth and children grow in their love and service to God.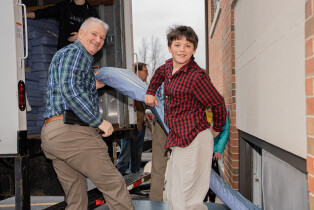 ---
Sunday morning ushers and counters needed
Please contact or if you're interested in helping usher and/or being a counter on a rotating basis on Sunday mornings.