Affordable Event and Meeting Space for Rent
*Please note, the approval process for church rental takes time. If you are interested in one of our spaces, we ask that you contact the church months prior to your desired rental date.
Looking for space to host an event or meeting? Elmhurst Presbyterian Church (EPC) has a variety of rooms available for one-time rentals to non-profit organizations, families and individuals.
Party rooms
Meeting space
Conference rooms
Performance venue
Choose from:
Formal conference room with sofas and piano
Informal conference room with large table and chairs
Large open concept space with attached private room
Large sanctuary with sound system for concerts, presentations, recitals or film location
Large room with stage, available with banquet tables to seat up to 100 + optional kitchen rental
Rental Fees
Fees are for one-time use of the rental space for non-members of EPC. Payment is required in advance of the rental date. Additional security or cleaning deposits may be required depending on the scope of the event. Set-up and cleaning fees required for some rooms.
Classroom-sized Room — $50/3 hours max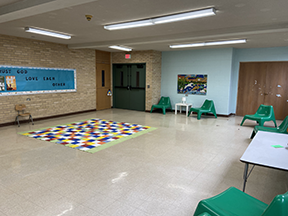 Private room with classroom tables and chairs
Versatile room for conference calls, meetings or workshops
Sanctuary — $200/3 hours max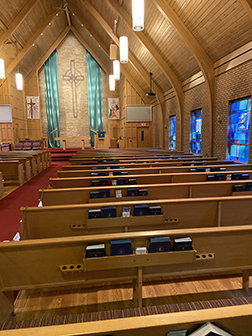 Upholstered pews with seating for up to 200 people
Designated area for band or musicians
Sound system and two large display monitors
Carpeted stage
Optional use of balcony
Formal Conference Room/Tallman Room — $100/3 hours max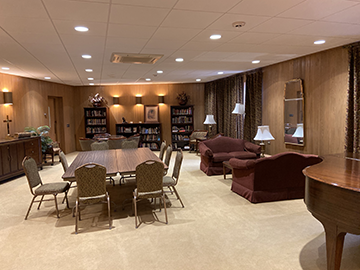 Formal conference room seats up to 20 people
Located on main floor near entrance ramp
Adjacent restrooms
Tables and upholstered chairs and sofas
Piano with bench seat
Large Event Dining/Entertaining Space/Calvin Hall — $250/3 hours max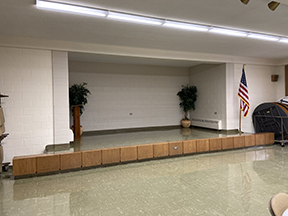 Spacious multipurpose room located on main floor next to large parking lot with ramp
Large party room seats up to 100 people, stage available
Tables and chairs included in rental fee
Available restrooms
Optional: Attached kitchen for additional $350/3 hours
Custodian Fee—$50
Set Up Fee—$50
Know that:
No alcohol is permitted
Members of EPC may rent rooms for one-time use at no charge.
Events vetted by EPC staff to ensure a good fit with church values and schedule
(Please note: approval takes time. Sometimes weeks or even months. Any last-minute rentals won't be approved in time most likely)
We are happy to share our space with the community we love to serve!
Looking for cheap rental space in Elmhurst, IL?
Contact: or 630-834-7750