---
Childrens' Church
For most Sundays, children leave adult-church and engage with each other in age-appropriate lessons from the Bible. We pray together, learn a story from scripture, do a craft together, laugh together, and then return to adult-church. For the last three Sundays of the month, children go to their own special church. For details about curriculum, accommodations, lessons, contact our church office.
Welcome to the team!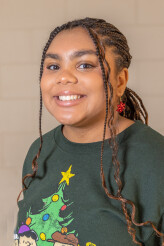 Micaiah Brown (she/her) -- My name is Micaiah Brown (she/her) and I am so excited to be teaching Sunday School. I am currently a student at Elmhurst University majoring in Theatre Arts Education.
Worship Basket Upgrade!
The first Sunday of every month, kids participate in the entire worship service. Other Sundays, they leave during the sermon for special activities. The Faith Formation Committee is hoping to upgrade our worship baskets to contain more engaging, faith-based activities for our youth to use during services. Please consider purchasing one of the items on our Amazon Wish List!

You can also access the list by scanning the QR code:

Nursery Services
The EPC nursery is available Sunday mornings from 9 a.m. to noon. The nursery is staffed by Clare Collins and Erin Fitzgerald who are very excited to help in the nursery!

We Believe in Accommodations
At EPC, we are dedicated to exploring faith with all people of all needs and abilities. Each one of our pews contains a bin for young worshipers filled with age-appropriate tools to help them worship with us, even if they can't read, talk, or sing yet!
Because we know that all children don't worship in the same way, we also have bins for children who have special sensory needs or children who are neuro-diverse. For one of these specialized pew bins, ask our church office.
How can we best accompany your child on their faith journey? Let us know if we can help with any learning accommodations or needs.