Saturday, December 02, 2023, 1:00 PM - 4:00 PM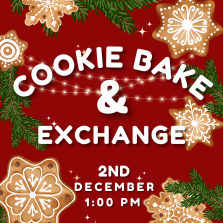 Mark your calendars for our EPC Cookie Bake & Exchange on Saturday, December 2nd from 1-4pm. This event will be held at the church in Calvin Hall. Bring your family recipes, premade cookie dough (enough to make 3 dozen cookies), as well as containers to bring home all the delicious treats that will be shared!
All are welcome and invited! You can sign up by scanning the QR code below or by clicking here.